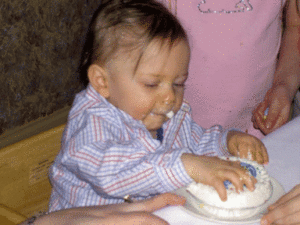 I'm a husband and father of two boys and have experienced the reality of hosting two 1st birthday parties.  My experience over the years made it easy for my wife and me to host our son's 1st birthday party, but I realize this is not the case for all parents.
I have experienced close to 5,000 1st birthday parties in my career since 1988 and have learned what works and what doesn't and many of these experiences, ideas, and thoughts are expressed in the birthday tips section.
I like to tell people that I learned my skills from a bunch of twisted people in college. Which is a true statement?  I met a group of professional entertainers that met every Monday night and would practice their unique skills in the gym. Always wanting to learn how to juggle, I joined this merry group.
I learned from world-class jugglers, unicyclists, magicians, clowns, balloonists, fire-eaters, theatrical entertainers, and vaudevillians. I did not realize at the time how lucky I was to be working with such talented people and the skills and techniques that were freely taught to me. I have used all my entertainment skills over the years, but have decided I would rather be a Master of one form of entertainment, than a jack-of-all-trades. So I became a master balloonist who specializes in 1st birthday parties.